<![CDATA[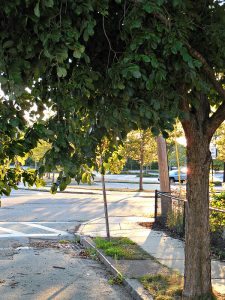 – News about Quincy from Quincy Quarry News 
Quincy High School is facing a new traffic safety threat.
In addition to the myriad of other traffic safety problems in Quincy Center which Quarry Quarry has duly exposéd, the Quarry recently happened on yet another traffic safety hazard at the intersection of Woodward Avenue and Russell Park adjacent to Quincy High School.
This intersection has long been known for both drivers blowing through the stop signs at each approach to this intersection as well as the occasional Quincy Police Department traffic violation sting.
Now, however, there is a cover-up that is impacting both vehicular and pedestrian safety at this already known to be dangerous intersection: a city tree is covering up one of the four stop signs at this intersection.
While the obvious safety concerns have been duly lodged with the City of Quincy, it remains to perhaps be seen if this safety concern might actually be addressed before the start of a new school year next month.
At this point, however, the current book in the Quincy Quarry newsroom indicates not.
Regardless, expect Quincy Quarry to closely monitor this latest traffic safety concern among the many others in just the Quincy Center area. 
After all, someone has to monitor public safety in the Q.
]]>