<![CDATA[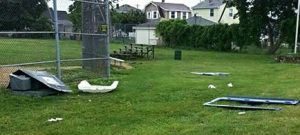 – News about Quincy from Quincy Quarry News
Quincy's Hough's Neck neighborhood hit with hazardous waste explosion.
In what can only be seen as yet another only in the Q news story, Hough's Neck residents were startled by thunderous explosion Saturday night.
The cause for the noise was from the explosion of a porta potty that set up next to the baseball field at Labrecque field.
In what appears to be the only media coverage of this hazardous materials explosion and as one can see from the accompanying as well as exclusively used by Quincy Quarry photographs of the scene, hazardous materials were surely widely scattered about at this public park.
And as for the explosion itself, it is widely assumed to have caused by the igniting of an illegal firework, although methane gas build up has not yet been officially ruled out as at least a contributing factor.
In a late response to this explosive hazardous materials explosion, the Ward One Ward Heeler put out a formal statement on her following up late on the incident today. 
Quincy Quarry found the ward heeler's statement most amusing, especially as the Quarry newsroom team is all but certain that its officious formality recounting events was surely intentional.
That and over her well after the fact follow up given long history of making much of how she is oh so technologically cyber-connected to her ward 24/7/365.
Also amusing is just the posterior covering over this latest hazardous materials incident to hit her ward.
Accordingly, so as to assure balanced and fair coverage, not to mention also try to see that someone finally get off the pot as well as proactively for a change, Quincy Quarry has duly communicated with several parties who live in the vicinity of the disaster scene.
One reported that is sounded like a bomb had gone off in his backyard. That and how this party was thankful for Sunday night's heavy as well as cleansing rainfall.
The Quarry was further advised that this sort of dangerous activity has been ongoing of late in Hough's Neck.
One party noted that there has been a roving band of punks wreaking havoc lately on the Neck of late.  
Among other things, the purported punks are suspected of vandalizing and are said to have threatened at least one person's life.
Further reports have it that requests to set up a Neighborhood Watch program on the Neck have been turned aside by city officials.
Now, however, given this all but assuredly purposefully set hazardous materials explosion, perhaps now locals can  reach out to the Massachusetts Department of Environmental Protection for protection.
Regardless, expect Quincy Quarry to continue to monitor this latest odoriferous event to happen in the Q.
]]>