<![CDATA[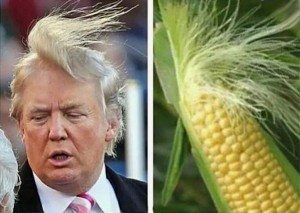 – News from elsewhere covered by Quincy Quarry News
Donald Trump viewed as "very unfavorable" by half of American women.
One can also assume that many of the other half of America women are not exactly fans either.
Per a Reuters/Ipso poll released on St. Patrick's Day, it would appear that women aren't buying Donald Trump's blarney.
Further problematic for Trump, his "very unfavorable" rating among women has gone grown by 25% from his October 40% "very unfavorable" rating among women.
As women make up more than 50% of the national electorate as well as turn out to vote at higher rates than men, such does not bode well for Trump.

Further yet problematic, Donald
Trump's favorability ratings are also declining among men
.
One can only reasonably assume that spending time sleeping on the couch eventually sways the opinions of at least some angry white males.
In typical Trump bombast, however, The Donald continues to inflame.
For example, in Arizona yesterday Trump put out a call to claim his presumed right to the presidential nomination
by relying on the Second Amendment
if need be.
This latest outrage followed his recently being subject to scrutiny as to whether – or not –
he might be open to criminal indictment for inciting a riot
at one of his recent
WWE Hall of Fame member
style riotous campaign events.
Additional negative trends include that other recent
polling data indicate that The Donald's act is not playing well
among
residents of western state
s and which are now about to weigh in more importantly as key western states hold their primaries in the coming days, weeks
and even months in the case of the mother lode of delegates that is California
.
After all, already
Govenator
Ahnold Schwarzenegger has already made it clear that he is not a fan of The Donald.
.
.
Whether – or not – The Donald's act has finally lost its appeal remains to be seen.
That and if the June 7th California presidential primary election might become a tag team Smackdown title bout for the GOP nomination.
Regardless of how things do play out, Quincy Quarry continues to be the source to turn to for news about this year's most curious presidential race.
QQ disclaimer
]]>