<![CDATA[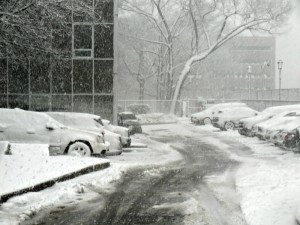 – News about Quincy from Quincy Quarry News
Quincy Snow Emergency takes care of City Hall VIP parking lot first as per standard local operating snowplowing practices.
In fact, not only first thing in the morning as photographically documented by intrepid Quincy Quarry photo team personnel via this Quincy Quincy story's featured photo, the City Hall VIP lot was again cleared in time for City Hall VIP's to head out to lunch and/or to facilitate lunch order deliveries.

Conversely, while today's storm is looking to end up resulting in but a sloppy and wet five inches or so of snowfall, many local streets are still sloppy with snow.
Also conversely,
per the Boston broadsheet
, neither Governor Baker nor Boston Mayor Walsh have implemented snow emergency as well as that even the MBTA has reported relatively smooth operations (for it, that is, ed.), at least so far.
Then again, when it comes to Quincy's City Hall VIP parking lot, even the slightest snowfall is a call for an emergency response.
That and so City Hall can yet again try to protect its phony baloney jobs.
.
.

In any event, Quincy Quarry will continue to monitor this so-called snow emergency as well as run any additional Quarry dog sled team photos if and as they might become newsworthy.
In the meanwhile, locals should not even consider heading out to pick up milk and bread as local stores were cleaned out this morning shortly after parents found out that local public schools were closed given City Hall's apparently unique calling of a snow emergency.
QQ disclaimer
]]>