<![CDATA[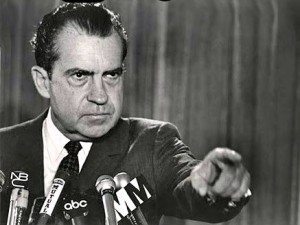 – Sports news commentary from elsewhere spotted by Quincy Quarry News
Nixon on baseball's continuing its ban of Pete Rose.
In the wake of a request for reinstatement by baseball great Pete Rose, the Commissioner of Baseball Rob Manfred turned down the request.
Apparently, the commissioner has no interest in being hustled by "Charlie Hustle."
In turn, the commissioner upheld Major League Baseball's tradition of zero tolerance on players or other important employees of major league teams betting on major league games dating back to the 1919 Chicago Black Sox Scandal.
As always, Dick Nixon's take on events was both far more nuanced and thoughtful as well as follows.
X- Major League Baseball commissioner Rob Manfred will not lift lifetime ban on Pete Rose for gambling https://t.co/PvlxzYSe02

— Michael S. Schmidt (@nytmike) December 14, 2015
I think Rose should be in the Hall of Fame. But you don't want him around young players, either.
— Richard M. Nixon (@dick_nixon) December 14, 2015
I once met a fellow wearing a shirt that said, "I'm With Pete — Give Me $200 on the Reds."
— Richard M. Nixon (@dick_nixon) December 14, 2015
It wouldn't have been difficult for Rose to make a better play. Don't live in Las Vegas. If you have to bet, use a proxy.
— Richard M. Nixon (@dick_nixon) December 14, 2015
This is for those who never saw Pete Rose play baseball. https://t.co/geqPRBvru2

— Richard M. Nixon (@dick_nixon) December 14, 2015
@dick_nixon Don't expect to see Rose in the Hall until after he is planted in the ground.
— QuincyQuarry (@QuincyQuarry) December 14, 2015
QQ disclaimer
]]>