<![CDATA[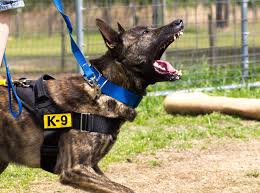 – News from elsewhere spotted by Quincy Quarry News
French police dog only police fatality during Friday the Thirteenth Paris terrorist attacks.
For all of the carnage wreaked by terrorists as well as the hundreds of raids staged by French police and military teams in the wake of the Paris attacks, so expert was the response by French first responders that only one first responder was killed: Diesel, a seven year old Belgian Malinois French National Police dog.

Diesel was killed when she was sent into an apartment building to check for survivors after a firefight had gone quiet and an apparently wounded terrorist fatally shot Diesel.
Anyone familiar with trained police and military use canines knows of the utter fearlessness of these dogs as well as their fierce protectiveness of their handlers.
What is less known is how dangerous this duty is for these dogs.
While the number of police dogs in use in the United States is but
vaguely estimated
 to be on the order of perhaps 50,000 dogs, their death rates in the line of duty still far outstripe those of human police personnel.
In recent years, police dogs deaths while in action in the line of duty in the United States is definitely known and 
has averaged a steady 15 per year
– in turn, an estimated annual death rate in while action of 3 per 10,000 police dogs.
Additionally, 
another fifteen police does have been reported as dying from heat exhaustion
 while on duty in the United States to date in 2015.
Conversely, 
human police officer deaths in the line of duty in the United States have declined steadily
 over the past 40 years – excluding the horrific 9/11 attack in 2001 – to 126 deaths in 2014 out of roughly 900,000 sworn law enforcement officers in the United States.
Less vehicle accidents and other unfortunate accidents (e.g., a drowning), 
a bit over 50 law enforcement officers were killed in 2014 by criminal acts overwhelmingly involving firearms
– a rate of 0.56 deaths annually per 10,000 officers.
While opting to give a police or military dog a pat on the head or a dog treat are obviously not good ideas, honoring their fearlessness without any regard to their own mortality is only fitting.
Options include
fundraisers to provide canine protective equipment
, supporting
their veterinary care during their retirement years
 or simply telling their human partner/handler they have a great partner – not that their human partners do not already know it.
It would surely also be only proper to acknowledge the risks undertaken by police officers who are working without benefit of man's best friend as a partner.
QQ disclaimer
]]>