<![CDATA[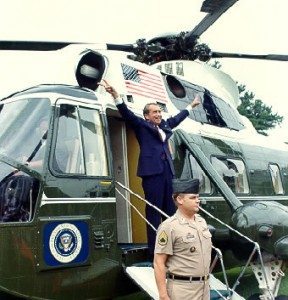 – News from elsewhere spotted by Quincy Quarry News
Richard Nixon offers up comment on possible Ben Carson and Donald Trump symbiosis.
That and reiterates his vitriol about the news media as regards one major network newsreader's  less than responsible comments about yesterday's horrific terrorist attacks in Paris.
Love him or hate him, the fact of the matter is that resigned in disgrace President Richard Nixon has long called them as he sees them and usually more adroitly – however much also usually darkly – than his critics care to acknowledge.
To whit, consider the following tweets to and from dark side – or  is it The Other Side?
@dick_nixon Do you think if Trump dropped out of the race Carson's numbers would plummet? Do they need each other?

— sjglass (@UrquhartMP) November 13, 2015
There is something to this. https://t.co/AOgQmSfImT — Richard M. Nixon (@dick_nixon) November 13, 2015
And as for Nixon's latest diss of a newsreader – this one was caught commenting fast and loose about the horrific terrorist attacks in Paris on Friday the 13th:
Brian Williams speculated about it being refugees. Never mind irresponsibility — it totally misunderstands how these things are planned.

— Richard M. Nixon (@dick_nixon) November 13, 2015
In short, love him or hate him,
Richard Nixon
 is willing to speak frankly without any regard of the opinions of the
nattering nabobs of negativity
or only after the massive polling and focus group public opinion gathering efforts all too typically undertaken by today's tightly-scripted so-called political leaders.
Unfortunately, also
heavy is the weight upon those who have worn a crown
.
QQ disclaimer
]]>