<![CDATA[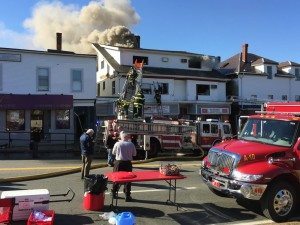 — News about Quincy Breaking News from Quincy Quarry News
Quincy fire update: a three alarm fire went up in smoke near the Wollaston fire station
This major fire at 309 Newport Avenue near Beale Street broke out shortly after the morning commute trafficking.
Traffic was thus detoured off of Newport around the fire scene so to both more readily knock down the fire as well as cordon off the scene.

The smoke was so thick that the Quincy Quarry newscopter for two was unable to take video through all of the smoke and its infrared camera went cold on the copter camera crew.
As the fire was given a three alarm rating, Mutual Aid was requested from surrounding communities.
At least 10 pieces of equipment were seen on the scene, with out of town fire trucks rolled into Quincy to help cover things if any other first responder emergencies occur while fire crews are tied up at this fire scene.
Fortunately, as the fire was literally around the corner, responding to the fire was probably not overly demanding for those who have been out door knocking lately and perhaps partying late last night.
Expect Quincy Quarry to monitor the situation for any further breaking news on this breaking bad news event.
As of publication #QuincyFire was still on scene mopping up active fire.
QQ disclaimer
]]>