<![CDATA[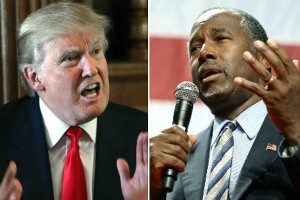 – News from elsewhere spotted by Quincy Quarry News
Trump overtaken by Carson in CBS/New York Times Poll
In attempt to gain a share of the GOP Reality Show campaign season, CBS and the New York Times released a jointly conducted poll that found Ben Carson overtaking The Donald.
While the 26% to 22% poll rankings were within the margin of error, clearly, Reality Show viewers are tiring of tired old Trump reruns and thus changing channels.

As long noted in Quincy Quarry, a decline was only to be expected in the favorability rating of America's most grating self-promoter since the death of
Infomercial pitchman
Billy Mays.
When and if, however, truly viable GOP candidates move up in hearts and minds of voters remain to be seen.
Expect Quincy Quarry to follow the decline of the Donald until at least close enough to beginning of the end.
QQ disclaimer
]]>