<![CDATA[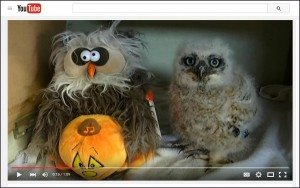 – News from elsewhere spotted by Quincy Quarry News
Media way late in covering dancing owl chick dance video.
As to be expected with Halloween fast approaching, various media have attempted to boost their ever sagging ratings with a happy news sort of story.
In this case, AOL News, The Daily Mail, various faux news media such as Inside Edition, and a handful of local TV stations in at least Detroit, Nashville, Pittsburgh, Tampa and Nashville have picked up on a three year old YouTube video of a owl chick dancing in the last few days and then errantly presented it as a seemingly new video.

The dance video features a rescued owl chick dancing to the Halloween rock and roll classic parody
The Monster Mash
 along with its dancing and singing battery-operated stuff toy.
In point of fact, as well as again, this Raptor Rescue video dance video was first posted three years ago.  Such is what happens when most media eliminated their fact checking staff years ago.
That and over relying on unpaid interns to surf for content to feature.
Further troubling, Quincy Quarry cannot discern an actual physical domicile of
Raptor Rescue
, the host of this gone viral YouTube video.
While Quincy Quarry knows better, the Suits in its Sales Trafficking Department have insisted that the Quarry run more cute fuzzy animal stories.
As such, enjoy.
QQ disclaimer
]]>