<![CDATA[-Boston Sports Blog by Quincy Quarry
Last season, the Celtics stunned the NBA by sneaking into the playoffs.
But for some context, the team finished 40-42, got trounced by Lebron James and the Cleveland Cavaliers in a first-round sweep, and (probably) only made it into the playoffs because they play in the watered down, injury-ridden Eastern Conference.
They didn't make sweeping changes this summer, but they did shake up the roster.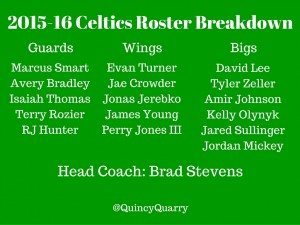 Just like last season, this team's greatest asset is depth. There is very little talent disparity (compared to the rest of the league) between the team's best player and it's worst. That said, the team currently has 16 bodies and can only carry 15 into the regular season. In addition only 12 can dress for a game, and only 10 will play meaningful minutes.
So here's my attempt to figure out who makes the cut, by ranking the team's talent from worst to first.
The Odd Man Out
This one hurts a little bit. PJ3 was one of my favorite players in the 2012 draft, standing at 6'1″ with freakish athleticism. Unfortunately, he looks like the most likely candidate not to make the team, if only due to the fact that his problematic knee is keeping the team from getting a good look at him. However, the team is not exactly loaded with wing scorers, so it would certainly make sense for the team to keep him around.
The Back of the Bench
The second round pick impressed the team enough in Summer League to be rewarded with the richest contract any second rounder has received. He's an athletic shot-blocker with nice touch on his jumper and a nose for the ball. He is undersized as a power forward at 6'8″ and 235 lbs., let alone as a center. But the lanky Mickey is a tremendous athlete with long arms in the mold of John Henson, and could provide similar defensive stability. The best decision may be to let Mickey bulk up and hone his offensive game in the Developmental League this season, however.
RJ Hunter
The sharpshooter out of Georgia State has drawn comparisons to Stephen Curry (if perhaps as much for his build/appearance and small school alma mater as his style of play), but has a lot of work to do before he's anywhere near the level of the reigning MVP. But Hunter too impressed in the Summer League with basketball IQ that stood out among his competition, and better defensive ability than expected. He could carve out a role as a 3-point shooter, but he will have a tough time stealing minutes from Avery Bradley.
Based purely on my own opinion, Rozier would be placed behind Hunter and spend his first season in the D-League alongside Mickey. But the early word out of the Celtics initial practices is that Rozier is impressing the coaching staff. We know how much defense is appreciated in the Celtics organization and that may be enough to put Rozier ahead of his fellow rookies in the eyes of head coach Brad Stevens. Rozier also checks in as perhaps the fastest player on the team, another asset that may separate him just enough to get some minutes.
Another player earning early praise from Stevens is second-year wing James Young. A prolific scorer coming out of Kentucky, Young failed to make any impact in his first year in Boston. But with the team's D-League affiliate, the Maine Red Claws, he showcased the scoring prowess that the Celtics drafted him for. Young didn't shine in the Summer League but drew lots of attention for his improved physique, a factor that could explain his reported improvements as a defender.
Super Subs
I am not a Kelly Olynyk fan. There has been a lot of buzz around Olynyk since his strong performance with team Canada in the Olympic qualifiers, but he has never consistently contributed in his two years in Boston. Olynyk is a one-sided player, known for a jumper that he shoots from all over the floor. But his decided lack of athleticism and paucity of three-pointers made leaves Olynyk behind his counterpart, 2012 first-round pick…
Jared Sullinger can be seen as the anti-Kelly Olynyk. He doesn't try particularly hard, he rarely makes the smart passes and he also has a lot of natural ability. Sullinger shined his rookie year as a double-double threat but struggled last year with injuries, inconsistency, and apathy. Sullinger reportedly worked hard this offseason to get into better shape with former NBA player John Lucas, but Coach Stevens maintains he still has work to be done.
The "other" Jonas who came out of nowhere to burst onto the Boston sports scene last winter, Jerebko came to the Celtics in the Tayshaun Prince trade and played well enough to earn himself a new contract this summer. Jerebko's strength is his versatility and balanced game, displaying 3-point range to go with athleticism and instincts. He clocks in ahead of Sully and K.O. thanks to his willingness and ability to play the 3, 4, or even 5.
Arguably the team's best all-around player for the full season last year (excludes trade acquisitions), Turner finds himself in an awkward position this fall. Turner was the team's primary ball handler last season, and yet this year the team will be handing that role to Marcus Smart. Some expected the team to trade Turner, but who can say if the veteran would even be able to replicate his production outside of Boston. Expect Turner to get substantial playing time, and perhaps start… for now.
As the tallest player on a very short team, Zeller possesses an asset that immediately gives him top five consideration. Last year, Zeller was the team's starting center and I would expect that to be the case this year. We also saw that even though he started the game, he rarely saw as much court time as his fellow starters, and that also should be the case this year. When he's on the floor, he has a good mid-range jumper (and a potential 3-ball in the works?), and is a smart passer. But he doesn't yet turn his size into the rebounding and blocks this team needs.
The team was fortunate to acquire a counterpart this summer in newcomer Amir Johnson. Johnson's offensive value comes more from his ability to make plays for his teammates in the pick and roll, and passing out of the post, but defensively brings a lot to the table. He rebounds (arguably) better than any player on the Celtics roster, and though he is not as tall as Zeller, he can block shots. He is the type of player who will have a much bigger impact on the game than can be measured in the box score.
The biggest noise the Celtics made this offseason came in the form of acquiring All-Star David Lee from the Golden State Warriors for Gerald Wallace. General manager Danny Ainge turned the largely unused Wallace into a valuable commodity. Lee can score and pass in the post, in he is a terrific rebounder. He has never been a tremendous defender, but hopefully he can improve this season. As an expiring contract, if the team is failing they could very well trade him before February's trade deadline.
Avery Bradley
Continuing inside the top 5, we move to the longest-tenured Celtics player, 25-year-old Avery Bradley. Bradley is a staunch defender who has shown an ability to score in spurts. I have never been a big fan of Bradley: he is very undersized to be an off-guard but also cannot handle the ball well enough to be a point guard. He has yet to develop a reliable three point shot and he doesn't penetrate and draw fouls. He has a good mid-range jump shot but desperately needs to start making 3's for this team to really thrive.
In addition to Lee, the Celtics added an established star during the season in Isaiah Thomas. The tiny dynamo was Boston's leading scorer last season, and thrived playing in Brad Steven's pick-and-roll system. He draws fouls like few others can, and makes some absolutely ridiculous plays at the rim. He doesn't offer much on defense, and rarely facilitates, but this team needed a scorer last season after trading Jeff Green and found one in Thomas.
My pick for the team's MVP last season, Jae Crowder brought an all-around style of play coupled with unteachable intangibles such as intensity, effort, clutch-factor, and leadership. Crowder showed potential on offense, but his real impact came defensively where he would often shut down the best players in the NBA. Crowder occasionally can hit a 3, but passes well and is athletic in getting to the rim. If he develops, he could be a star a la DeMarre Carroll, or even a Kawhi Leonard-lite.
Marcus Smart
The most valuable asset on this team bar-none. The #6 overall pick in the 2014 draft, Marcus Smart showed tremendous offensive promise last season and even more in Summer League play. He is expected to take on a bigger role this season as the primary ball handler and he has the ability to get to the rim. He is also a bulldog on defense and plays with a ferocious vigor. His development will determine whether the Celtics are a playoff team or just another Eastern Conference bottom feeder.

QQ Disclaimer
]]>