<![CDATA[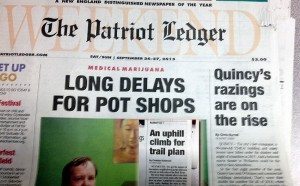 – Quincy News from Quincy Quarry News
Southshore broadsheet copying Quincy Quarry headline stylings?
Is the Southshore broadsheet a Quincy Quarry wannabe?
After suffering Quincy Quarry's innumerable scoopings and exclusive stories about the myriad of badly breaking bad news in the Q as well as the Quarry becoming Google's Number One ranked source for News About Quincy, it would appear that ever-increasingly smaller broadsheet that is the Southshore broadsheet has decided that imitation is its sincerest hope for economic survival.
After all, all one has to do is look at the headlines in last weekend's edition of the Southshore broadsheet: "Quincy's razings are on the rise," An uphill climb for trail plan" and – the QQ newsroom's favorite – "LONG DELAYS FOR POT SHOPS"
Like any stoner has ever moved quickly . . .

This apparent emulating of the Quarry has gone so far as the broadsheet's embedding a recent Quincy Quarry Twitter tweet and its graphic image into one of the broadsheet's recent feature stories so as to apparently endeavor a covert attempt to so improve SEO metrics by this crosslinking between the two websites.

The problem, however, is that coming along second is usually only a good thing for the second – or even more subsequent – law enforcement officer breaking into – say – a suspected to be well-armed drug dealer's distribution center or any parties endeavoring to cross a minefield.
Even so, Quincy Quarry is certain that at least some of the ever-increasingly fewer readers of news media offerings appreciate how the Quarry is duly doing its part to increase their amusement factor when reading about bad breaking news in the Q.
QQ disclaimer
]]>