<![CDATA[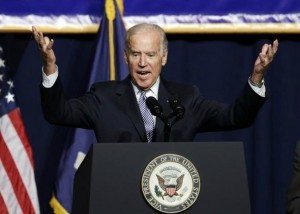 – News from elsewhere spotted by Quincy Quarry News
Latest 2016 campaign reality show poll picks currently Vice President Biden as this week's favorite to win the Presidency in the November 2016 election.
As there is no GOP debate this week to drum up TV ratings and the new TV shows debuting last week and this week are no great shakes, MSNBC and the Wall Street Journal released their jointly commissioned poll results in an obvious ploy to try to score themselves the sort of ratings that first Fox News and then CNN scored by hosting the first two GOP reality shows. masquerading as debates.

The cross comparisons of the various match-ups were all but innumerable as both parties unfortunately still have quite a number of suspect candidates still in the race.
In fact, so intertwined where the possibilities that Quincy Quarry suggests its readers take two ibuprofen before taking a look at this poll's findings.
Then again, why bother looking for a headache?
After all, as one sage observer noted, Biden has yet to even announce and thus
has yet to face the sort of scrutiny
that usually takes the rose of the bloom of a new candidate.
And to this Quincy Quarry must add that if currently Vice President Joe Biden does finally opt to enter the race,
this newcomer would be second
oldest major candidate in the race after looking to perhaps starting to fade rock star
Bernie Sanders
.
In short, so much for new blood as well as new ideas.
And yet some people still wonder why the political cognoscenti view this early stage in a presidential campaign as the silly season.
QQ disclaimer
]]>