<![CDATA[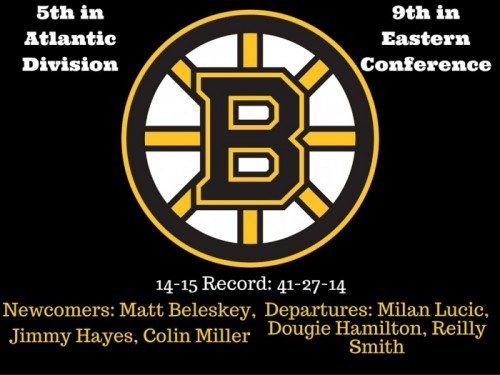 -Sports news from teams near Quincy
There came a time in human history when men chose to forgo knowledge in favor of baser instincts. When the Library of Alexandria was burned down during the fall of the Roman Empire, those who were burning it probably didn't consider that they were dooming us to the Dark Ages.
The Bruins find themselves in a similar situation. Conventional wisdom suggests you should use all the most up to date information at your disposal in constructing a team and yet the Bruins continue to stick to the same formula. While the rest of the league gets faster and more skilled, Boston continues to let coach Claude Julien use his lineup of gritty defensive-minded players.
We saw another bright young offensive player traded away (as has become tradition) and it looks as though the Bruins still believe that the path to the Stanley Cup is paved with toughness rather than finesse. Sadly for Bruins fans, even though who welcome that "Don't poke the bear" mindset, this team doesn't look a whole lot better than the one that missed the playoffs last year.
The team had arguably two defensemen worthy of the "Top 2" classification (and I use that term loosely) in Zdeno Chara and Dennis Seidenberg. Neither is skating on fresh legs this season and this problem manifested itself early than most anticipated. Seid's will be on the sides till at least mid-November while the Big Z himself is currently listed as day-to-day with an "upper-body" injury. While day-to-day usually begets optimism, let's not forget Chara is 38.
In a perfect world, where Chara can stay healthy the whole season and Seidenberg returns with a fervor, the team will still be placing a heavy reliance on an unproven group of blue-liners. Behind those two are newcomers Colin Miller and Matt Irwin battling youngsters Kevan Miller, Zach Trotman, Joe Morrow and Brandon Carlo for ice time. If that group sounds lackluster, the only silver lining I can offer is the undersized Torey Krug, and the oft-injured Adam McQuaid.
Tuukka Rask will have his hands full yet again. But even if he stands on his head, there are questions, too, about this team's goal scoring prowess (or lack thereof). They lost two significant offensive players in Milan Lucic and Dougie Hamilton, neither of whom was traded for an immediate offensive return on investment. The team also lost Carl Soderberg and Reilly Smith, two players who certainly earned their way out, but had proven success in the past.
The team's A plan to replace this offense is suspect. While promising youngster David Pastrnak looks like a star, the futures of fellow player-prospects Seth Griffith and Brian Ferlin is cloudier. The team clearly believes that trade acquisitions Brett Connolly and Jimmy Hayes will exceed expectations but I'm more concerned about them reaching expectations. And the final piece of the puzzle is veteran free agent signing Matt Beleskey, who scored a career-high 22 goals with the Ducks last year.
Again, I would be remiss not to mention the silver lining. The team returns one of hockey's best players (and all-around good guy) Patrice Bergeron, as well as the "Nose-faced Killa" Brad Marchand, in addition to Loui Ericksson, David Krejci and Ryan Spooner. But is that a Stanley Cup team? The offense may exceed expectations, but the team will need huge production from its young defensemen if it looks to truly bounce back this year.


QQ Disclaimer
]]>