<![CDATA[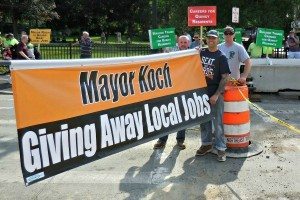 – Quincy News from Quincy Quarry News
Quincy Mayor Koch hopes for 40% or so in tomorrow's Quincy primary election?
In a primary election eve Quincy Quarry exclusive, "French Kiss," Quincy Quarry's City Hall mole, risked his future as a minion by leaking word that embattled incumbent Mayor Thomas P. Koch is telling his minions that he should be in good shape for the general election in November if he receives 40% or so of the primary vote tomorrow.  While a disinformation ploy is always a possibility given the years of dissembling by the Koch Maladministration, French Kiss is usually spot on his rattings out of the Koch Maladministration.
Regardless, talk about apparently downplaying expectations by the embattled incumbent Mayor Thomas P. Koch.

Not even New England Patriots Head Coach Bill Belichick could manage to keep a straight face
talking up what a big threat
are – say – last season's Tampa Bay Buccaneers,
the team with the very first pick in last spring's NFL draft
.
In the case of embattled incumbent Quincy Mayor Thomas P. Koch, 40% for works out to 60% against.
Even so, around the Quarry newsroom, water coolers, barbershops and other venues of political conversation, Koch ending up with around 40% to 45% for tomorrow's primary sounds about right as the high water mark as the Koch Maladministration continues to founder, if not also all but be cast adrift by long-suffering local residents.
Plus, with incumbent Weymouth Mayor Sue Kay receiving less than half of the vote of top vote getter in last week's Weymouth mayoral primary, things would appear to not be looking good for at least some South Shore incumbent mayors this election season.
In fact,
Mayor Kay only drew 23%
of the primary vote in spite of the fact that her administration has both suffered fewer embarrassment and failures even on a duly weighted basis.
That and with the SouthField redevelopment project spanning South Weymouth, Abington and Rockland
is finally showing signs of significant progress
, one would think that Kay should have enjoyed some pop at the polls whereas conversely Mayor's Koch's plans for Quincy Center continue to
be more hot air
than heated actual construction.
Expect Quincy Quarry to report as only it can on tomorrow's Quincy primary election results.
Also expect the Quarry to present other stories still under investigation and as soon as they are duly vetted to Quincy Quarry's uniquely rigorous standards for publication.
QQ disclaimer
]]>