<![CDATA[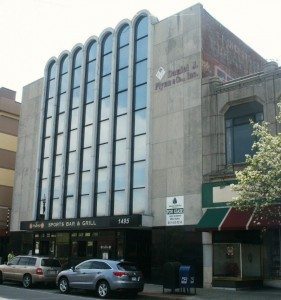 – News about Quincy MA from Quincy Quarry News
Dan Flynn covered up in Quincy Center?
In the wake of previous hard hitting coverage about at least improper FlynnFlam signage long left in place in Quincy Center noted in Quincy Quarry's sly scooping coverage on FlynnFlam's recent arrest on federal charges, a cover-up appears to have since been endeavored.
As one can readily see from Quincy Quarry photo file photos, signage for FlynnFlam was still prominently displayed at his long former office long after he had fled the Q for Dorchester and thus the signage was also long in violation of local signage ordinances.

While Quincy Quarry is too modest to take all the credit for these latest exposé of FlynnFlam, it is still only fair to note that the illegal FlynnFlam signage finally was removed
in the wake of yet another hard-hitting Quincy Quarry exposé
.
Rather, primary credit for this story as Koch Maladministration second tier capo "Vinnie Veritas" is the one who brought this cover-up to the attention care of Quincy Quarry.
While rarely a source of veritas, Vinnie inadvertently tipped off the Quarry
via his posting on Facebook what a great beer selection
 there was to be enjoyed at the new sports bar in the former FlynnFlam building, along with a picture of the building.
In turn, the eagle eyed Quincy Quarry newsroom spotted the cover-up and the rest, as they say, is now recorded history.
While not as forthcoming with information as "French Kiss," Quincy Quarry reporter Carl Woodward's City Hall mole, Vinnie really needs to stop imbibing and then posting before he might suffer
The Wraith of Koch
.
Regardless of how things play out for Vinnie, do expect hard-hitting coverage of Flynn-Flam's
upcoming arraignment
in Federal District Court.
QQ disclaimer
]]>