<![CDATA[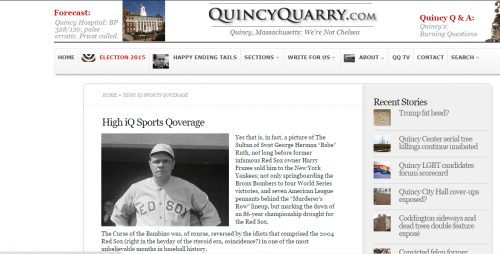 Quincy Quarry is happy to announce the addition of a sports page to our site, and with it, a new team member! That was not intended to come across as the shameless plug written in the third person that it was probably read as, but what the hell, I'm Roy Hobbs and I'll be taking over as the sports editor here at QQ.
QQ has been hoping to branch into sports for awhile now, but with the rest of the team otherwise preoccupied, they've made the (questionable) decision to bring me aboard. So let's get into the more fun stuff about what we're gonna do and I'll try and fill in the blanks as we go.
First of all, I am the real Roy Hobbs. That amateur hour production starring Robert Redford as my likeness was far from an accurate portrayal of all that I am. Baseball is, of course, my lifeblood but I am also in the know when it comes to football and basketball, and I'm a damn good bluffer when I'm pretending I know about hockey.
Hey @QuincyMilitia hope you're ready for us, we're itching to get there! We're sick of deflategate, ITS FOOTBALL SEASON @PatriotLedger — QuincyQuarry (@QuincyQuarry) August 29, 2015
The purpose of this page is still very much open ended; our first sports story will go live this weekend as I take a trip to Veteran's Memorial Stadium to watch the Militia take on the Worcester Fury. We'll blow up social media, have a good time and get a write up (hopefully with some video) to you sometime in the days following.
Where we go from there remains to be seen. We'll be sure to add our thoughts on the biggest stories in sports, as well as give you some coverage and opinion on the local teams as well. So until then, keep an eye on our social media leading up to the game and then on Saturday night, get your hard hats our because I'm gonna rain down content like hailfire.
QQ disclaimer


]]>