<![CDATA[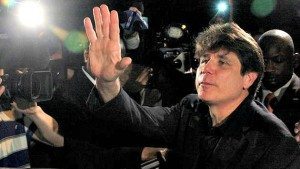 – News from elsewhere spotted by Quincy Quarry News
Former Illinois Governor Blagojevich has again appealled his still outstanding 13 federal felony convictions.
Rod "Blago" Blagojevich is now seeking a full panel US Seventh Court of Appeals review of his multiple counts conviction and resultant 14 year prison sentence over his willing to name the highest bidder to fill the US Senate seat vacated when Barack Obama was sworn in as President of United States in 2009.

Per local Chicago coverage
of this breaking development, Blago should not be planning on being reunited with his beloved "
football
" anytime soon.
On the other hand, at least Blago is upholding the
Illinois tradition of its governors usually ending up serving time given federal convictions
.
While 4 out of the 7 recent Illinois governors convicted – excluding the current and sure to perhaps also be suspect incumbent – does not quite measure up to
the perfect 3 for 3 conviction rate of the immediately previous Massachussetts Speakers of the State House of Representatives
, with 
the current incumbent Speaker apparently still not yet out of the woods
, 4 out of 7 would still suggest Illinois is a Massachusetts peer when it comes to its politicians.
Quincy Quarry considered reaching out to City of Quincy Massachusetts embattled incumbent Mayor Thomas P. Koch for comment given his similar affection for his own hair as well as an also similar penchant for things sartorial, but then assumed that he was too busy seeking "contributions" to his free-spending, if not also desperately spending, campaign fund.
Regardless, expect Quincy Quarry to continue to follow Blago's desperate attempt to be reunited with his beloved 
football
.
QQ disclaimer
]]>