<![CDATA[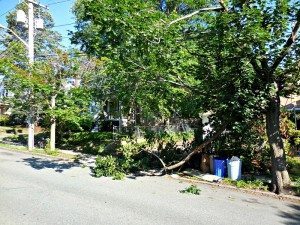 – News about Quincy MA from Quincy Quarry News.
Quincy Center tree breaking badly breaking bad news continues.
Quincy was hit with even more tree carnage apparently last night during what a calm and quiet early summer night.
A huge limb from an old and rife with tree rot City of Quincy tree crashed to the ground and so blocking the driveway of a private residence.
Fortunately, and as was the case with a recent Weymouth DPW dump truck accident wherein the city employee driving the truck was both reportedly operating without the proper motor vehicle certification as well as allegedly under the influence of more than a couple cold ones while at work, no one other than the assumed to impaired driver was injured.

Even so, and as demonstrated by exclusive Quincy Quarry photographs, the driveway for a private residence was blocked by the fallen City of Quincy tree's massive limb.
Further, it is Quincy Quarry's understanding that an individual residing at the impacted residence is wheelchair bound and thus bound to use a special lift-equipped minivan to transport himself most any distance from his residence.
Quincy Quarry is also aware of the fact that this same City of Quincy tree dropped a lesser but also tree-rot infested limb within recent days.
The Quarry considered reaching out to the City of Quincy Park & Forestry Department's Tree Warden for comment; however, the city has not had a Tree Warden for almost two years as 
per its Fiscal Year 2016 budget
.
Quincy Quarry also considered reaching out to the City of Quincy's
Park and Forestry Department CSI team
, however, the team appears to still be in the process of determining that it was obviously a lack of watering that killed over a half a dozen expensive large trees planted at Coddington Hall during the heat of last summer as well as that
a lack of water also killed roughly a dozen large holly bushes
as well as other plants yet that were planted nearby this past spring.
Expect Quincy Quarry to continue to closely follow this apparently metastasizing plague of tree deaths in Quincy Center.
At the same time, given the massive number of tree killings and maiming in Quincy Center in recent months, Quincy Quarry would like to remind its growing legions of readers to contact it via its
anonymous story tip email address
 should any among its readers have witnessed any of these surely grisly tree ravagings.
QQ disclaimer
]]>