<![CDATA[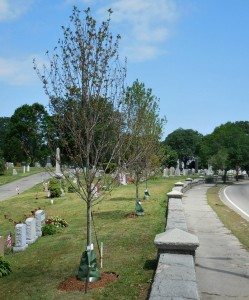 – News about Quincy MA from Quincy Quarry News.
Quincy serial tree killings appear to continue unchecked as well as with no apparent end in sight.
In the wake of previous as well as gruesome chain saw massacres of many formerly flowering trees at several killing scenes in Quincy Center and the wiping out of all but one member of the large Conifer family outside of Coddington Hall, now there are other expensive recently planted trees holding on to life by a leaf while hooked up to arboreal equivalents of IV bag medical treatment kits.
Whether – or more likely not – these latest victims of plant abuse and neglect survive remains to be seen.

With all manner of other recently planted plants at various other City of Quincy properties around town also now dead from at least neglect, one cannot help but assume an inside job by a serial brown thumb.
In the meanwhile until the abuser or abusers is or are identified, in lieu of flowers, the lone as well as also barely surviving Coddington-Conifer family member has asked that donations be made to the
American Society for the Prevention of Cruelty to Plants
.
QQ disclaimer
]]>