<![CDATA[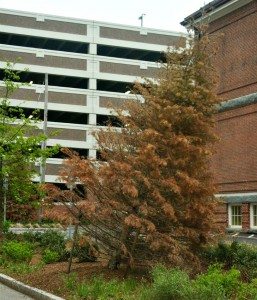 – News about Quincy MA from Quincy Quarry News.
Quincy's long sideways tree is finally no more.
Long the muse for a long ongoing series of hard-hitting stories in Quincy Quarry, Coddington Hall's long sideways as well as long dead tree is finally gone, along with 4 other expensive large conifers that were planted at this one of many over-budget and late Koch Maladministration misadventures.
At the same time, however, two adjacent also dead as well as also surely expensive deciduous trees planted last year were inexplicably left in place.
Whether – or not – the seven expensive dead trees out of 16 planted at the scent of this tragic site last summer fall will be replaced or who will be paying for any replacement trees remains to be seen.

Quincy Quarry considered reaching out for comment from Koch Maladministration Koch spokesmodel Chris "Pinnochio"
Walkbacker
, but decided not to bother as he is surely too busy dialing for dollars from
the various snow hauling firms that made a killing in the Q last winter
.
Per
the usual Koch Maladministration practice
, the grave site was covered up.
Even so, Quincy Quarry was still able to find the unmarked grave sites.
As tragic were these loses, they were made even worse by the fact that they could have been avoided with but proper watering last summer.
That and proper staking as well as not trying to force plantings in the heat of summer in what proved to be
a failed attempt to at least finish up the Coddington Hall renovation project on time after it had already run over budget
.
In lieu of flowers, the lone surviving conifer asked that donations be made to the
American Society for the Prevention of Cruelty to Plants
.
QQ disclaimer
]]>