<![CDATA[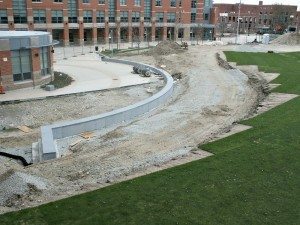 – News about Quincy MA from Quincy Quarry News.
Quincy parcourse is running par for the course and is thus continuing to run late.
The long suspected to be named Thomas P. Koch Parcourse and the adjacent suggested memorial parking lot in front of Quincy High School are looking to blow past the six months late point by the end of this month.
As Quincy Quarry readers will recall, City of Quincy Director of Parks & Forestry Executive Director Chris Cassani stated that this " . . . project – to include a new stone wall, benches and parking spaces – should be mostly finished and open to the public in November."

In fairness to Mr. Cassini, it is only fair to note that he did not note in November of what year.
Then again, neither has he offered any official word since as to when things might perhaps actually completed.
Regardless, the end of November was six months ago and it would thus appear that this project is not going to undercut the Koch Maladministration's long ongoing record of never managing to finish any of its major projects on time and/or within (the original, ed.) budget regardless of how it might to try to spin things.
Similar disconcerting, local overnight campers as well as recreational apothecary shoppers at the Quincy Center MBTA station are anxiously looking forward to the protection from prying eyes that will be accorded to them by the new retaining wall at the site of the so-called Thomas P. Koch Parcourse.
Expect Quincy Quarry to continue to sod to death this as well as other long ongoing soddings of local taxpayers.
QQ disclaimer
]]>