<![CDATA[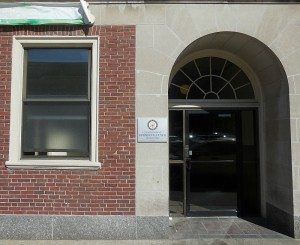 – News about Quincy MA from Quincy Quarry News.
Quincy Center suspected recreational apothecary shutdown?
Amazingly, after many months of ethical businesses operating in a certain Quincy Center building complaining, something apparently was finally done to address long suspected illicit drug trafficking in this building after suspected traffickers apparently opted to add a walk-up takeout window.
As captured by a fearless Quincy Quarry photographic team, the window screen of a ladies room window was cut open.
In turn, various eyewitnesses who understandably wish to remain anonymous report seeing plastic bags passed out of this window after something was first palmed into the restroom.
This same bathroom is the site of a suspected drug overdose and apparent Narcon revival in recent months.

Additionally, the building itself houses the temporary offices of the City of Quincy's City Clerk's office until such time as the fire-ravaged and running way over budget old City Hall renovation project might eventually be completed.
In the meanwhile, while City Clerk's office employees enjoy their own bathrooms, businesses owners, their employees and customers in this building have long and often found used syringes in the building as well their shared bathrooms.
Complaints to both the building's owner and local police went to little apparent effect, however, until shortly after the suspected walk-up window was set up and things thus finally resulted in action.
The action:  the bathrooms shared by a handful of ground floor businesses and their customers have been closed for their designed usage regardless of applicable public health codes.
Additionally, Quincy Quarry has spotted Quincy Police officers in plain clothes hanging out over a weekend on the opposite side of the building apparently in the hope of catching the suspected traffickers.
Unfortunately, if the Quarry can readily make these not exactly blending in officers and the suspected apothecary bathrooms have been locked shut, little is likely to result in the way of arrests as the suspected traffickers have surely relocated their operations somewhat nearby.
For example, into or behind either or both of the adjacent City Hall parking lots or perhaps to the also nearby private parking lot for the building where the suspected recreational apothecary walk-up window was operating.
After all, used syringes have long been found in or around all three parking lots.
Quincy Quarry considered reaching out to embattled incumbent Mayor Koch's drug task force for comment; however, it is not interest in waiting around for an answer to this particular apparent drug abuse problem for perhaps as long as have local residents waited for years for answers to the ever worsening drug abuse scourge facing the Q.
For the same reasons, neither did the Quarry bother reaching out to surely but coincidentally mayoral brother-in-law Quincy Police Chief Paul "
The Beav
" Keenan for comment
Even so, of interest – if not also irony, the suspected walk-up window is in a building that has family-ownership ties with
the ownership of a detox facility that recently opened up in Wollaston
.
Further ironic, not only is the district office of a member of the Massachusetts Congressional Delegation located in the building wherein the suspected walk-up window is located, his official office sign is arguable the "X' marking the spot for the walk up window.
Additionally, in yet another small world the ways things appear to work in the Q angle,
this elected official's wife appears to be on the board of the directors for the operator
of the Wollaston facility and which 
the Boston broadsheet has called into question
 previously over apparent conflicts of interest over the elected official's supporting of federal funding awards to this particular social services program.
While Quincy Quarry takes no position on the various curious strings of intertwined coincidences, it did still find them even closer than
Six Degrees of Separation
.
QQ disclaimer
]]>