<![CDATA[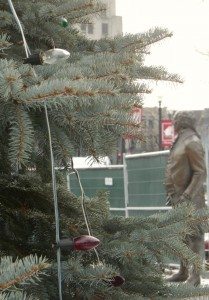 – News about Quincy MA from Quincy Quarry News
Quincy City Hall continues to have holiday season lights still out and about around it as well as out of operation.
While Santa and Frosty have been packed away until next year, someone apparently neglected to see to it that the holiday lights in Quincy Square were also put away until next year's holiday season.
Then again, perhaps it has not yet been possible for Park and Forestry senior management to schedule the long suspected usual practice of providing overtime premium pay shifts to certain favored city workers for taking down the lights.
Commuters are particular incensed over this latest operational shortcoming from among the innumerable others committed during the era of the Koch Maladministration.

Reasons include that at least leaving the lights on would have surely improved their safety during the dark days of limited winter daylight hours.
At minimum, they could at least find their way through Quincy Square
given its history of not always functioning streetlights
.
Quincy Quarry was not able to access City officials for comment as they are enjoying the day off care of the Martin Luther King Jr Day National Holiday.
Then again, getting a straight answer out of City Hall on anything is a rare event event in the best of circumstances – say, not since during the era of previous Administration 7-plus years ago.
QQ disclaimer
]]>