<![CDATA[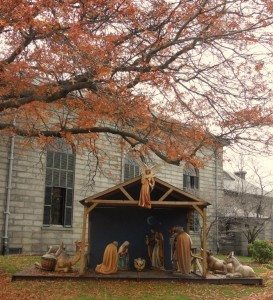 – News about Quincy MA from Quincy Quarry News
Quincy's city-owned crèche continues to push its luck following its first time ever moving from its winter holiday display on City property to the Presidents' Church opposite what is left of fire-ravaged and Koch-addled City Hall.
Not only has Western Christian Christmas long past, so to have both Epiphany (January 6) and even Orthodox Christmas (January 7).
Given this crèche's long history of suffering cherub-nappings and other similar crimes during Christmases past, one can only wonder why City officials have so left the crèche vulnerable so far into a new year, especially as retailers have already moved onto Martin Luther King Day promotions, January white sales and preparing for the Presidents Day retail shopping midwinter bacchanal.

Then again, maybe
it is just the usual inability of the City of Quincy during the Koch era to get anything done in a timely, much cost-effective, manner.
Alternatively, perhaps it has not yet been possible to set things up so that overtime pay can be collected by the usual favored unions workers regardless of the fact that the Local 1139 union contract with the City mandates a rolling and equitable opportunity to all of its members to work overtime and so pick up some extra income around the holidays.
QQ disclaimer
]]>