<![CDATA[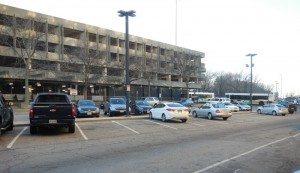 – News about Quincy MA from Quincy Quarry
Quincy City Hall employees, MBTA credit union customers and apparently a number of privileged others clearly appear to have more than enough parking designated for their exclusive use on a recent Tuesday mid-afternoon.
Private citizens and local merchants, on the other hand, continue to struggle with the loss of parking spaces in Quincy Center given the closing of the condemned Quincy Center MBTA station garage, the Hancock Street realignment project, the seemingly never ending restoration of the burned out old City Hall, and the yet to be even but touched burnt out Masonic Temple.
Local residents are also becoming fed up with being ticketed in what is becoming increasingly parking space scarce Quincy Center.
As a result, cited drivers are increasingly opting to appeal their parking tickets, especially after local parking ticket citation fines were increased.

At last report
, complaints can be lodged on Tuesdays from 9 am to 11 am in what's left of City Hall.
Inexplicably, the City of Quincy's Director of Affordable Housing Tom Fabrizo, a long time City Hall glad-hander, typically holds court for parking ticket appeals.
How well things are then coordinated on successfully appealed citations so that things do not go to past due status as far as the Registry is concerned, however, is a whole different matter.
QQ disclaimer
]]>