<![CDATA[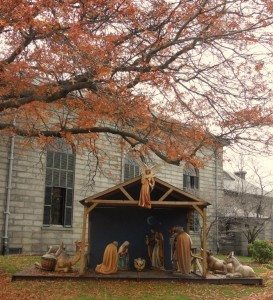 – News about Quincy MA from Quincy Quarry.  
Given the mess that it is old City Hall these days, the crèche this year has instead – at least so far – uneventfully spent the holiday season  on the grounds of the Church of the Presidents.
As reported previously, at most but a few parishioners at the Church of the Presidents have expressed their sentiments that this Unitarian Church's hosting of the crèche this year should have perhaps been more widely broached among the congregation beforehand.
After all, it is their church.

Perhaps more importantly, the mayor had so asked them for a significant favor in spite of the fact that
the mayor currently has no funding in place nor is any anticipated to be available anytime soon so as to properly landscape things in front of the church as well as provide permanent and proper vehiclular access to the church
after the Hancock Street realignment project is (currently, ed.) slated to be completed next fall.
Then again, what else can a church do other than properly honor Christian
charity
 even if someone secular might view the lack of, well, reciprocity by City Hall as more than sufficient justification to have turned aside City Hall's request for a significant favor arguably well outside of a particular faith's holiday season traditions?
In any event, why no other problems for the crèche continues to be the case in increasing problematic Quincy Center has left many puzzled.
As noted previously,
Quincy Quarry would thus like to again offer up two possible explanations
.
One is that previous years' vandals, figure-nappers or just plain bored kids out pranking are perhaps less likely to do so with a crèche that is placed on church property instead of this crèche's usual placement on city property such as in front of City Hall or – more recently – its arguably less than respectful to the dead placement atop burial crypts within the City-owned historical Hancock Cemetery.
After all, even fervent separation of church and state atheists tend to leave inoffensive churches alone.
The Quarry's other possible explanation is zombies – those previously disturbed from their eternal rest in their crypts with a crèche over them as opposed to the more recent burgeoning as well as apparently local phenomena of
heroin zombies
 – are no longer disturbed by this arguably intolerant stealth annual attempts at de facto
Establishment
 above their crypts or nearby grave sites.
And on a related front,
an English religious scholar was recently cited as suggesting that the account of Jesus' birth in a stable is errant given less than adept translations from Ancient Greek scripture
 and thus the crèche story is inaccurate.
However well-reasoned as well as perfectly plausible are his views, one can still only expect that the ordained scholar will face all manner of rebuke, with
Marshfield MA most likely one of the epicenters of dogmatic outrage as well as constitutional ignorance
.
Either way or otherwise, Quincy Quarry will continue to follow this ongoing so far Christmas miracle in Quincy Center to see if it continues to remain safe until, say, 
Epiphany
.
QQ disclaimer
]]>