<![CDATA[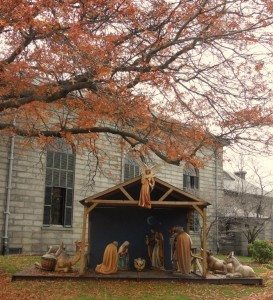 The secular by definition City of Quincy's clearly religious Christmas crèche donated to the City by the local at least plurality religious faith has for one of the few times in recent memory not been subject to figure-napping or vandalization.
At most, a few parishioners at its new holiday season venue on the grounds of the Church of the Presidents have expressed their sentiments that this Unitarian Church's hosting of the crèche this year should have perhaps been more widely broached among the congregation beforehand.
Why no other problems so far in increasing problematic Quincy Center has left many puzzled.
Quincy Quarry would thus like to offer up two possible explanations.

One is that the previous years' vandals, figure-nappers or just plain bored kids out pranking are perhaps less likely to do so with a crèche that is placed on church property instead of this crèche's usual placement on city property such as in front of City Hall or – more recently – its arguably less than respectful to the dead placement atop burial crypts within the City-owned historical Hancock Cemetery.
After all, even fervent separation of church and state atheists tend to leave inoffensive churches alone.
The other explanation is zombies – those previously disturbed from their eternal rest in their crypts with a crèche over them as opposed to the more recent and apparently local phenomena of
heroin zombies
 – are no longer disturbed by arguable stealth annual attempts at de facto
Establishment
.
Either way or otherwise, Quincy Quarry will continue to follow this ongoing so far Christmas miracle to see if it lasts until at least Christmas, if not also until
Epiphany
.
QQ disclaimer
]]>