<![CDATA[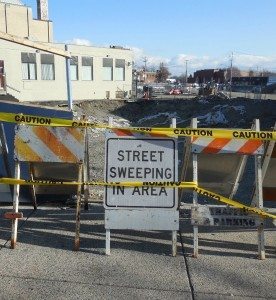 – News about Quincy MA from Quincy Quarry
Quincy Center was hit with a sideways sidewalk hit and run late Saturday night last week and – for a change – the City of Quincy has been Johnny relatively on the stop in cleaning up the carnage.
In fact, so much so that long suspiciously dark-haired Department of Public Works Commissioner Dan "Spanky" Raymondi has apparently seen to it that the site is both made (somewhat, ed.) safe as well as subjected to a street-sweeping around the once proposed site of a diving pool previously touted tacitly by Mayor Koch per his now no longer touted plans to bring the 2026 Olympics to the Q.

A key reason for this one of many changes in plans is that the 2026 Olympics will be the Winter Games.
Somewhat prompt action for a change notwithstanding in cleaning up the damage done, one can only hope that the Quincy Police Department's Crime Scene Investigation team was able to finish up sweeping the scene for evidence before street sweepers swept the site.
Similarly, while less than robust steps have been taken to prevent passersby – especially those
under the influence
 – from falling into this one of many abysses in Quincy Center, at least the sidewalk has been (partially, ed.) reopened and thus disabled seniors no longer have to step into 
the mean and often dangerous streets of Quincy Center
.
Quincy Quarry continues to be unable to obtain any statements from Quincy Police Chief and mayoral brother-in-law Paul "
The Beav
" Keenan.
Lack of any official comments notwithstanding, Quincy Police is rumored to have not identified any suspects in this sideways hit and hit and has thus
added this latest unsolved case to a long list of unsolved cases – including apparently still not having a clue as to who torched old City Hall in September
.
QQ disclaimer
]]>