<![CDATA[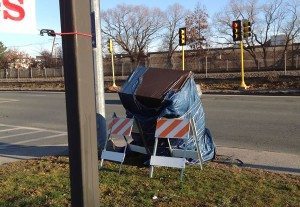 – News about Quincy MA from Quincy Quarry
Looks like this sideways light control box on Newport Ave. and Hobart is getting ready to take a nap.
Just in case, it seems it's all wrapped up with bungee cords and plastic wrap so it will have a nice warm snooze.
Might we suggest something in red & green, that is decorative for the Christmas season?
A nice wool hat would be nice, especially considering it may not be fixed until next year.


]]>