<![CDATA[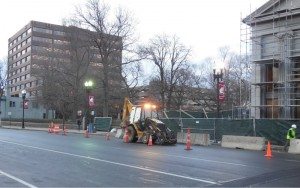 – News about Quincy MA from Quincy Quarry 
Quincy Center's ongoing public parking crisis looked to have finally enjoyed some modest relief, only to have this modest relief taken away elsewhere.
On Monday morning workers were exclusively photographed by Quincy Quarry wrapping up the removal of Jersey barriers in front of the Hancock Cemetery where contractors have been staging cleanup activities tied to demolition and replacement work necessary in in the wake of the devastating old City Hall fire in September.

While City Hall is on record as saying the spaces so taken up were not taken up for clean-up work needs from the City Hall fire
, Quincy Quarry file photography clearly indicates otherwise.
So what also – apparently – for obvious OSHA and public safety concerns as well as likely violations of same by the workers clearing the Jersey barriers
without benefit of a police detail or at least a civilian flagger during the busy morning commute
.
Still,
any
additions to the depleted street parking inventory in Quincy Center, however meager, are welcome.
Unfortunately, a number of the few public parking spaces in front of the Quincy Center MBTA station continue to be taken up by construction vehicles and equipment working on the City Hall renovation projection.
Conversely, City Hall employees as well as suspected commuters with City Hall parking stickers continue to not suffer any loss of any of their several dozen reserved free parking spaces in the surface parking lot in front of the Quincy Center MBTA station whereas public parking spaces in Quincy Center continues to disappear.
So what also, apparently, for repeated suggestions to senior city officials that
merely
some
of the City's spaces in front of the T station be freed up for public use during the duration of the Hancock Street realignment project and
offsetting parking be made available for City Hall- connected free parkers at the nearby city-owned Ross Garage
.
After all, free parking close to City Hall is still free parking.
In the meanwhile, as result of this curious setting of privileges for at least certain city workers over the Common Good,
Quincy Center business continue to suffer financially as customers are staying away from Quincy Center given the chronic lack of parking
 as well as that local residents continue to be hard-pressed to access what is left of fire-ravaged City Hall.
QQ disclaimer
]]>