<![CDATA[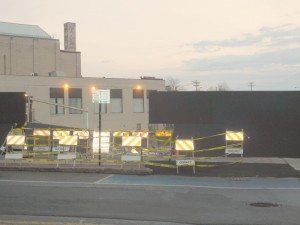 – News about Quincy MA from Quincy Quarry
Quincy Center was hit with a sideways sidewalk hit and run late Saturday night in the latest of many as well as long ongoing threats to pedestrian safety in Quincy Center.
Per exclusive Quincy Quarry photos, the assumed perp inexplicably managed to both jump the curb on a straight run of Hancock Street in middle of the 1300 block as well as almost do a cannonball into the once proposed site of diving pool once touted by Mayor Koch in his now no longer as touted plans to bring the 2026 Olympics to the Q.
In addition to the obvious funding problems, Mayor Koch was later advised that the 2026 Olympics will be for the Winter Games.
Plus, there is good reason to assume that the proposed Koch Stadium in North Quincy will still be undergoing environmental review until at least 2026.

Returning to the scene of this latest threat to public safety in Quincy Center, Quincy Quarry was unable to obtain a statement from Quincy Police Chief and mayoral brother-in-law Paul "
The Beav
" Keenan.
Even so, rumors abound that drinking may have been involved.
Conversely, perhaps the driver may have instead thought the run of asphalt curbing was a driveway leading to off-street parking in
increasingly street-parking scare Quincy Center
.
Absent any official police input, Quincy Quarry asked its
world-renowned crime scene investigation reporter Nancy Drue
for her thoughts.
Ms. Drue agreed that drinking was all but assuredly a factor, albeit
for a sage reason beyond the obvious as well as typical late night scene in Quincy Center
:  the driver of the vehicle managed to avoid hitting street signs and streetlights, although jerry-rigged electric lines powering adjacent streetlights were severed.
Not since someone unknown crashed into the fence at the Faxon Field track relatively soon after its dedication without also taking out all manner of nearby posts, poles and signage has Ms. Drue seen such a lucky drunk driver, especially as the scene of this particular accident was directly opposite the Quincy Police Department headquarters.
At the same time, Ms Drue discounted the parking lot theory as no one in either their right or even inebriated mind drives into and parks within Quincy Center late at night. As for proof of this contention, Ms. Drue noted that no parked vehicle appears to have been reported as struck during this surely as well as darkly spectacular incident.
In the meanwhile, Quincy Police is rumored to have not identified any suspects and so
added this latest unsolved case to a long list of unsolved cases including not still knowing who torched old City Hall in September
.
QQ disclaimer
]]>