<![CDATA[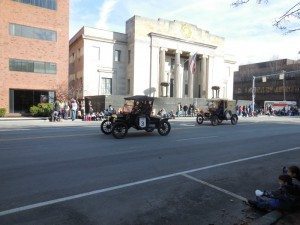 – News about Quincy MA from Quincy Quarry
Quincy Christmas parade attendance was thin this year in what is left of fire-ravaged Quincy Center in spite of all but perfectly balmy weather for a parade in November in New England.
The parade also got off to a late start as per the usual running late for most any and all City of Quincy efforts.
Still, it is only fair as well as proper to report that the delay this time was only 30 minutes, although even then more than a few mothers were already at their wits end given impatient children and parade vendors hawking the usual schlock.

Rumored reasons for the delay include the usual incompetence, fervent last minute robo-calling to city employees offering overtime pay for any and all who helped to puff up the number of parade spectators to a certain someone holding things up so that he could scarf down a second calzone at
Napoli's
 before the start of the parade.
In any event, immediately following the parade-leading Quincy Police Department color guard lead by Quincy Police Department Chief Paul "
The Beav
" Keenan, one of the Quincy Mayor Thomas P. Koch's various brothers-in-law among his many other relatives also employed by the City of Quincy.
Previous tradition had long been that local pols would march in the back end of the parade, but the current photo op and parade-loving Mayor of Quincy Thomas P. Koch loves to be the center of attention.
The mayor clearly was a focal point this year, although Quincy Quarry was not able to secure before publication deadlines confirmation of rumors that jeering and moonings of him in North Quincy followed the confirmed general silence interspersed with muttered denouncements of Mayor Koch by parade spectators at the attendance-thin Quincy Center start of the parade.
The Quarry did, however, find the usual cadre of hand-picked holiday weekend premium overtime pay paid city workers cleaning up what appeared to be all manner of rotten fruit and vegetables in the middle of the street along the parade route in Wollaston
near the site of a soon to be opening 64 bed detox facility
.
Otherwise, the parade went off without any other more significant problems than the usual and so replicated the miraculous many years streak of parachuting Santa and his elves not crashing into the crowd or landing in trees
at a death-defying other as well as curious local tradition
.
QQ disclaimer
]]>