<![CDATA[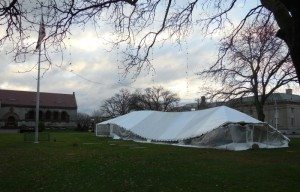 – News about Quincy MA from Quincy Quarry.  
Quincy Center yet again suffers damage – this time catastrophic ruin upon a party tent set up for yet another gala photo op for Mayor Thomas P. Koch in what was also his latest planning fiasco.
As seen in exclusive Quincy Quarry photos, the party tent in front of the Thomas Crane main library was all but leveled during the Thanksgiving Eve Nor'easter that made many millions late to grandmother's house.

What is not as clear is why the party tent venue for the annual Christmas Tree lighting photo op was ruinously located in wind-swept, syringe-laden and variously otherwise unprotected open space in front of the library when the official city Christmas tree, along with two very old and well-worn Christmas decorations are set up at least several hundred feet away in front of what is left of the fire-devastated City Hall.
As expected, city officials are sure to spare no expense to see City Hall plans go forward regardless of the cost inflicted up local taxpayers so that
major campaign donors
and certain other local
grifters
can eat cookies and especially
cake
.
After all, when it comes to
planning fiascos
, the Koch Maladministration continues to regularly set ever lower
new low tide marks
.
Still, credit must be given for City Hall finally placing the crèche long infamous for
cherub-napping
somewhere other than on city property and thus variously in violation of US Constitution's mandate for the separation of church and state as well as all manner of related US Supreme Court decisions.
On the other, how it ended up on display at the Unitarian Church of the Presidents has left at least some baffled.
As yet unexplained anomalies include not only arguably this faith's more austere and Low Church doctrines, but also that City Hall has no funding in place to construction Mayor Koch's grandiose plans for a dream theme park in front of the church.
After all, absent funding, how will the city provide replacement access to the church after the Hancock Street realignment project might eventually be completed?
At minimum, the City of Quincy could well find itself subjected to all manner of citations over violations of the federal Americans with Disabilities Act.
Then again, Christian charity dictate yet again turning the other cheek to the long-rumored to be
not as forgiving Koch Maladministration
.
Whether – or not – Santa finally grants
Mayor Koch's his long-sought Christmas wish for $40 million to build his $30 million dream theme park
remains to be seen.
Among other problems,
Santa
is still recovering from both the recent stateside elections earlier this month as well last year's sitting in his lap by the currently sitting Mayor of Quincy.
Accordingly, he is thus less than able to deliver the goods this year.
QQ disclaimer
]]>