<![CDATA[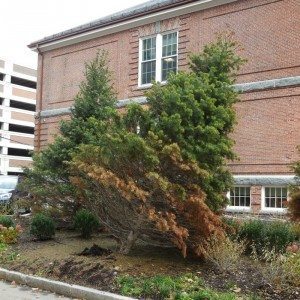 – News about Quincy MA from Quincy Quarry
Coddington Hall's significantly both over contract price and City Council authorized funding figure renovation project recently went further as well as also potentially dangerously sideways.
The latest dire problem: large and surely very expensive trees planted last summer continue to be close to falling over after they were blown sideways during back-to-back Nor'easters several weeks ago.
This dangerous situation is the latest addition to project's said to still be lengthy "punch list" three months after first initiating occupancy in Coddington Hall.
Punch list problems suffered to date include all manner of surely expensive telecommunication connection do-overs as previously covered exclusively by Quincy Quarry.
Further troubling, there is still no clear signs of any plans to properly address as per code storm water runoff from the parking lot onto the Coddington Street sidewalk before winter weather turns the sidewalk into a virtual hockey rink for the many hundreds of Quincy High students that pass by daily on their way to and from school as well as innumerable other passersby.

That neither the contracted landscaping firm on this latest in a long string of all but innumerable over budget city projects nor any city workers have duly addressed this clear public safety concerns is beyond comprehension.
It is conversely to be expected that no statement by any city official will be readily provided on these latest
city-owned trees
 to be facing eminent destruction.  As such, Quincy Quarry did not bother to reach out to City Hall for comment.
With first major storm of the cold season in New England about to make Thanksgiving a white Christmas, Quincy Quarry will continue to follow this sideways situation as well as duly report when disaster strikes and as one can only reasonably anticipate that it will.
In the meanwhile, Quincy Quarry is duty bound to report that after running at least a half a million over the ten million dollar budget figure at last report, the floors inside of Coddington squeak more loudly than those inside of the 
Addams Family Mansion
in spite of the fact that they are covered over with wall-to-wall carpeting.
Then again, the carpeting used was but regular commercial grade as opposed to
the ne plus ultra custom woven wool carpeting
long 
favored by but not so quickly paid for by Mayor Koch as promised
.
Quincy Quarry must also only properly report that City Hall inexplicably agreed to spend serious money to go with copper cladding on a new dormer built in BACK of Coddington Hall and so facing Presidents Place's mid-rise parking garage.
Per a Quincy Quarry exclusive interview, the dormer was built to house an air exchange unit that was
installed by the Koch Maladministration's favorite HVAC contractor
.
On the shiny penny side of things, at least this otherwise grossly extravagant copper work is on a par with restoration work done on Commonwealth Avenue mansions in Boston's Bay Back.
That and one can only hope
that the extensively copper and bronze-laden Coddington Hall does not suffer the same disastrous fate that befell old City Hall
care of an alleged copper thief.
QQ disclaimer
]]>