<![CDATA[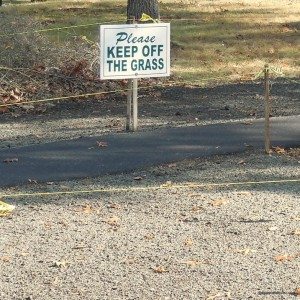 – News about Quincy MA from Quincy Quarry
Faxon Park's new playground is still a work in progress well over a month after its mid-October opening.  The work still in progress also poses a potential parking crisis that could further exacerbate trafficking problems in Quincy.
While the park's somewhat recent opening of a less than completed new $450,000.00 playground renovation project has generally received ". . .  mostly happy with the changes . . . " reviews, all manner of things were not completed in time for its opening weeks late as per the standard runnings late on Koch Maladministration projects.

Shortcomings include an admonition to keep off of grass that is nowhere to be seen; apparently,
sodding up things was not an option
.
Parking lot stripping has also yet to be completed
and so has expanded the long ongoing parking shortage crisis in Quincy Center
to Faxon Park.
So what also, apparently, for
City Hall's long and often spun plans to make Quincy Center pedestrian-friendly
 as this playground has been widely touted as a (drive to, ed.) destination facility as opposed to a neighborhood playground.
Similarly, basic park maintenance and clean-up efforts adjacent to the new playground continues to appear to warrant improvement.
Fortunately, early hard freezes have ended this year's mosquito season as well as that with winter fast approaching homeless campsites in Faxon Park will soon be vacated until next spring.
Unfortunately, all manner of other busy neighborhood parks with far older playground equipment than that which was replaced at Faxon Park continue to be less than prime as well as typically tagged by taggers with spray paint.
Further troubling is the moonscape that is
the scandal-plagued one time proposed site for Quincy High uphill of Walmart in South Quincy
.
This federal Superfund pollution clean-up site was announced by City of Quincy Park & Forestry personnel at a City Council meeting over two years ago as then shortly slated for seeding for either meadow or sports field use following then also pending minor top soil grading work.
Again,
apparently sodding was not an option
then nor is it anytime soon.
Currently, however, exclusive Quincy Quarry photography would indicate that over time that the site has become a dumping ground for excavated material and of which much is not readily amenable to use as fill given all manner of often large pieces of granite stone.
Further, numerous inquiries to local officials as to what is up at this site have long gone unanswered.
As a result, South Quincy continues to suffer from a dire shortage of soccer fields whereas millions are
in the process of being spent on already all but hopelessly bogged down plans
to complete the renovation of three such fields in the mayor's neighborhood in North Quincy.
QQ disclaimer
]]>