<![CDATA[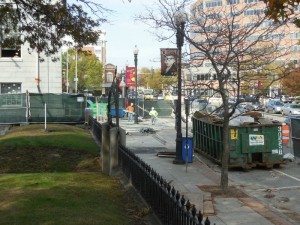 – News about Quincy MA from Quincy Quarry
Quincy's City Hall renovation project continues to undergo cleanup 7 weeks following its suffering a devastating fire on the last day of September.
Additionally, there has been no word of any progress identifying and then perhaps arresting the alleged arsonist.
Fortunately, a plausible projection was provided by the lead contractor on the project at the November 17 City Council as to when City Hall's restoration might actually be completed been provided: the end of June.

In what year, however, was not as clearly stated.
Concurrently mentioned was that the total cost of the damage caused by the fire costs is currently $1.5 million.
As such, the project's further delay as well as the cost of the damage from same are up by 33% and 50%, respectively, at this point 
from figures of three months and a million previously announced by the Koch Maladministration
.
Whether – or not – any further delay and/or cost creep will follow as per local tradition remains to be seen.
Similarly, no firm estimate of this project's final total cost has been announced.
Fortunately, at least
proper overnight and weekend security for the building has finally been instituted
following the fire.
What is left to protect at this point, however, has yet to be detailed.
In the meanwhile, further troubling is the recent appearance of Pods© in front of Hancock Cemetery.
Are aliens among us
 or just the usual local
heroin zombies
?
Similarly disconcerting, the Koch Maladministration
has failed to spin up an explanation as to how all of the considerable fire clean up equipment taking up increasingly sparse parking public parking spaces near City Hall has nothing to do with the decrease in parking spaces in Quincy Center
.
Fortunately for City Hall employees, however, none of their many free parking spaces in front of the condemned Quincy Center MBTA garage – and which have also long been used by commuters who inexplicably have City Hall parking stickers – have been impacted.
QQ disclaimer
]]>