<![CDATA[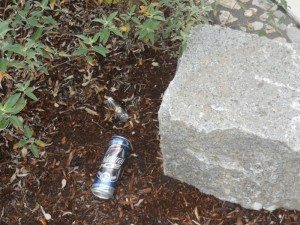 – News about Quincy MA from Quincy Quarry
A Quincy park has been named as the favorite for libations by its temporary local residents.
Unfortunately, Quincy Quarry can only describe the location of this relatively new park in Quincy Center along the Hannon Parkway/Revere Road/McGrath Highway corridor.
The reason is that it has yet to be named even though it and several other adjacent parks were variously completed between a year and two years ago as well as were to be dedicated last spring in the wake of the considerable touting of their key role in the redevelopment of Quincy Center.
City Hall was not also available for comment at the publication time of this article to suggest a date when any actual commercial redevelopment of any significance within Quincy Center might perhaps actually commence.

In any event, while more of a landscaped square than a park, this favorite outdoor place for libations is the extensively landscaped green space on the uphill side of Mechanic Street's termination at Revere Road where the expensively rerouted Town Brook first "daylights" out of a culvert.
As none of these parks has been named, Quincy Quarry is seeking reader suggestions for names for at least this park.
A key reason is that
abutters have long been desperately seeking a name for it
as well as the other adjacent parks so that they can 
provide an exact location of the latest problematic incident at these parks
 to the Quincy Police Department as they occur.
Initial suggestions include Needle Park by one devoted Quincy Quarry reader and – obviously – Libation Park by
the Quincy Quarry newsroom
.
The deadline and final selection of a name to be proposed to the Koch Maladministration for this park is Memorial Day so as to 
honor the American Legion Hall that had to be demolished to reroute the Town Brook per Mayor Koch's now-moribund grandiose plans to redevelop Quincy Center
.
Additionally, depending on the number and quality of the names suggested, Quincy Quarry may also offer them up as names for the other landscaped spaces along and over the rerouted Town Brook.
QQ disclaimer
]]>