<![CDATA[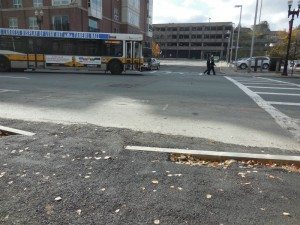 – News about Quincy MA from Quincy Quarry
Sideways new sidewalk construction work in Quincy Center continues to be inflicted during the Hancock Street realignment project.  First, curious work was done in front of the Crane library.
Now, a federally-mandated Americans with Disabilities Act new handicap curb cut appears to be completely off-kilter with its corresponding crosswalk in front of the oft-robbed Citizen's Bank branch in Quincy Center.
As one can see from exclusive Quincy Quarry photography, curb cut access way needing disabled will soon NOT be afforded with crosswalk protection when crossing one of the many pedestrian mean streets of Quincy.

Then again, this latest problem was only to be expected given that
City Hall had mistakenly announced that sidewalk replacement would commence on September 22
on the southwesterly side of Hancock Street near its intersection with Dimmock Street on the
opposite
side of the street of this ill-aligned new curb cut.
Not only has no sidewalk work been done to date on the southwesterly side of Hancock, the sidewalk work on the
northeasterly
side of the street has 
no obvious openings for previously touted plans of the Koch Maladministration that the Hancock Street in Quincy Center would be lined with larger trunk diameter plantings of new trees to replace those cut down
 during the street reconstruction project.
Comment was not obtained from City Hall on this latest grave safety concern in the fire ravaged and arguable drug-infested
war zone that is Quincy Center
in time to meet Quincy Quarry publication deadlines.
Fortunately, although done after the fact, at least
city officials have arranged for human and electronic watch security at the fire-decimated and surely running even more behind schedule as well as way over budget City Hall renovation boondoggle
.
]]>