<![CDATA[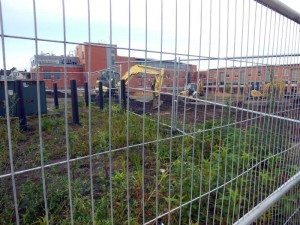 Completion of the Mayor Thomas P. Koch Parcourse and a rumored to be named as a memorial parking lot at the former site of old Quincy High School continue to run late as well as probably over budget.
As reported previously, while Koch Maladministration projects running late is not exactly news, this latest running late Koch project continues to offer up often curious new examples project mismanagement.
In this case, working late on a weekend and so likely entailing an overtime cost overrun as the featured exclusive Quincy Quarry photograph for this story was taken on a Saturday just before 5 pm.
Then again, much of the grading work done on this unilateral Koch Maladministration project through mid-August was done on an overtime basis as well as led by a now late Mayor Koch relative who is said to have long worked the Department of Public Works.
Additionally, City of Quincy Director of Parks & Forestry Executive Director Chris Cassani stated that "new sod should be laid at the site by the end of September . . . (as well as) . . . a new stone wall, benches and parking spaces – should be mostly (emphasis added, ed.) finished and open to the public in November."

With the site still at least days away from laying any sod and thus the project is surely running at least three weeks late at this point, who only knows when the " . . . new stone wall, benches and parking space . . . " might be completed. (see photo right.)
Given the fast approaching cold weather, asphalt will become unavailable except perhaps at considerable premium cost as well as that the pouring of concrete is most ill-advised during freezing weather conditions.
Additionally, October 15 is the recommended last day for seeding grass seed in Eastern Massachusetts with the recommended end date for the laying of sod soon following thereafter.
Expect more exclusive Quincy Quarry coverage as this still ongoing snafu continues to run par for the Koch Maladministration.
Disclaimer
]]>