<![CDATA[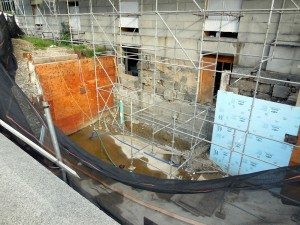 The pattern of suspect construction work and project management at the Coddington Hall renovation project appears to now be in full swing at the old City Hall renovation project.
Exclusive Quincy Quarry photographs indicate that work crews have ripped out work done previously on the planned water cistern between old City Hall and the Hancock Cemetery.
(Quincy Quarry archive photo of one of the many holes in the ground in Quincy Center before actually completed construction work in it was later ripped out, photo left)
As reported previously in Quincy Quarry, the cistern is needed to supply water to the three fountains planned for the $30 million grandiose less than an acre and a half theme park planned by Mayor Koch in front of City Hall but for which funding has yet to be secured.
This latest apparent project redo is also tied to suspected OSHA violations similarly covered by Quincy Quarry see: Safety Violations on City Hall Project?


City Hall officials were unavailable to Quincy Quarry for comment about this apparent latest example of an expensive do-over on a major Koch Administration Construction project as this latest suspected incident of misadministration occurred long before anyone senior shows up at City Hall to pretend to work.
In the meanwhile, those expecting to rest eternally in peace in the Hancock Cemetery continue to be disturbed.
]]>