<![CDATA[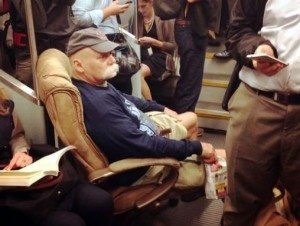 Quincy Quarry reported on Red Line Dining Cars yesterday.  As you may note in the Dining Car photo, folks are required to provide their own tables and Kraft Parmesan Cheese.
NOW we learn that riders have to provide their own SEATS.
Even the Metro weighed in on this… Spaghetti Dinner, Office Chairs
In the meantime, MBTA Employee spending is out of control.
I wonder what Sleeper Cars would look like if the T was running things?  Oh.. don't go there.



]]>