<![CDATA[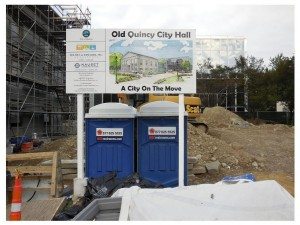 Quincy Massachusetts' City Hall digs in in the wake of Quincy Quarry's boffo inaugural issue SEO metrics.
Quincy Quarry is already at the top of the Google Search © list per a Quincy Quarry News search word browser search following Quincy Quarry's wildly successful QQ Day landing on the beaches of Quincy MA.
Quincy Quarry is also solidly in the middle of the second page per a simpler Quincy Quarry word search against very tough same words using competition.
As one can see from accompanying exclusive Quincy Quarry photograp c/o of its seasoned war corespondents, however, the Mayor Thomas P. Koch Administration's reaction to Quincy Quarry's successful assaults has been to further bulk up the bulwarks surrounding City Halls originally planned to protect it from angry local taxpayers, fend off the homeless from taking over Quincy Square and at least try to stymie the bizarre recreational drug bazaar that is the Quincy Center MBTA station.
While enhanced fortifications may prove marginally effective at defending City Hall from angry taxpayers, the homeless and drug dealers, the Koch Administration has yet again shown itself hopelessly out of touch with reality.
Specifically, Quincy Quarry is successfully attacking City Hall via cyberspace.

<![CDATA[Quincy, MA City Hall fortifications & Construction.
Quincy Quarry News Photo
Click on image for larger one]]>
As such, the Koch Administration's spending wildly as per its usual free spending ways to build moats, breastworks and other old-fashioned defenses so as to endeavor to defend itself from Quincy Quarry is yet another useless wasting of taxpayers' money.
And yet people say that the Pentagon is overly focused on preparing to fight the last war instead of planning to fight the impending one on the horizon.
Editor's Note:
"Cry HASHTAG! and let slip the Blogs of War!"
(Given the SEO success advertisers are flocking to our sales department.)
Quincy Quarry would appreciate your feedback via leaving a comment in the box below.
]]>