<![CDATA[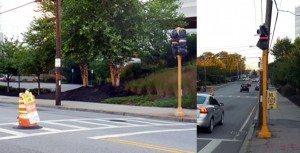 North Quincy traffic on Hancock Street often resembles a parking lot instead of an effective roadway.
As such, in what can only be assumed a do it yourself attempt by someone to try unsnarl traffic, trash bags have found yet another use.
This new use is to cover over two sets of stop lights along Hancock Street at its intersections with Walnut and Myrtle Streets in North Quincy.
Check out the QQTV Video below: "MAKE MY DAY".
QQ reached out to MassDOT and was able to contact spokesman A. "Red" Light.
When shown QQ exclusive photos, Red Light said something that not even the always forthrightly quoting Quincy Quarry would publish.
QQ would, however, care to suggest that Light is no longer certain that he has seen it all when it comes to dumb traffic management ideas.
Conversely, QQ was not able to obtain an answer from the City of Quincy as it has been without a clearly designated, much full-time Traffic Engineer since the end of 2013.
QQ considered contacting Mayor Thomas Koch as when he first ran for mayor in 2007, one of his campaign planks was to address traffic congestion in North Quincy, especially along Hancock Street Corridor.
Upon reflection, however, as Mayor Koch never responds to questions about his campaign promise or any of the aspersions promulgated by his campaign operatives, much less to any questions about any of his myriad of other shortcomings, QQ opted to not waste its time.

QQTV Video: "Make My Day!"  Do you want to get run over by 6 cars or only 5?



]]>